This post may contain affiliate links, which means we may receive a commission if you purchase through our links. Please read our full disclosure here.
This post will show you the best fitness gifts for athletes.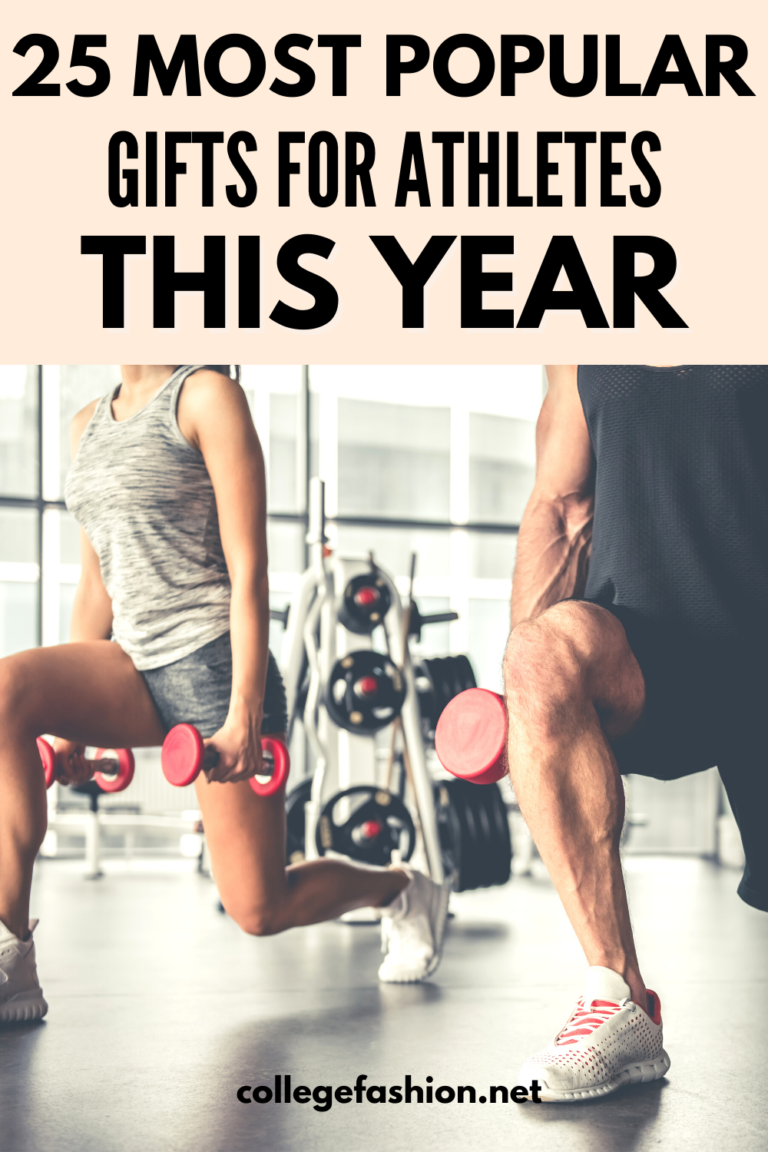 Over the past few weeks, we've been sharing gift guides for everyone on your list. (See our posts on gifts for college students, gifts for girls, parent gifts, white elephant gifts, and stocking stuffers for college students.)
Today, we have a special gift guide for the athlete or fitness fan in your life. These people can be notoriously difficult to shop for if you don't know the trends in the fitness world.
To help, we've compiled a list of the 25 most popular gifts for athletes this year, so you can get them what they really want. Read on for the gift guide!
25 Gift Ideas For Athletes
You knew this one was coming. If they don't have a pair of AirPods yet, this is definitely the #1 gift every athlete wants this year. Yes, it's a splurge, but they will use these daily.
Gone are the days of snagging your headphones on your arm during your workout, sending your phone crashing to the ground. AirPods allow you to listen to your music wirelessly, and the new Pro model comes with special tips for a custom fit for your ears. Plus, the noise cancellation and battery life on these are unmatched!
Lululemon's Align leggings have a cult following for a reason — they truly are as "buttery soft" as the brand claims. They're ultra-flattering, come in the cutest colors, and are THE workout legging every woman wants to own. (AKA they're basically the best gift ever!)
While I live for my Lulu leggings, for a more budget-friendly alternative, I'm also obsessed with these CRZ Yoga leggings from Amazon. They aren't quite as soft as the Aligns but they're extremely similar, plus they're ultra-comfy and totally squat-proof! Just another great gift option.
These APL sneakers are among the most fashionable running shoes on the market right now. Name a celebrity or fitness influencer, and it's very likely they've been photographed in these shoes.
Yes, APLs are expensive. But if you want a gift that will really wow them, these are a sure winner that they will wear all the time.
AD
If you are gifting your athlete a new pair of shoes, you can make that gift 100x better by including some custom insoles for the sport of their choice.
VKTRY insoles are insanely popular because they're designed to improve athletic performance. This means "faster sprint times, more explosive movement, and fewer injuries." If your athlete is serious about performance, they'll be thrilled with this gift!
Another one that your giftee may already have, but a total no-brainer if they don't. Everyone I know who's into fitness has an Apple Watch to track their workouts. It's definitely the must-have fitness tracker of the past few years.
If you want to bring this gift over the top, consider pairing the watch with a replacement band in their favorite color. (This stainless steel bracelet one is my personal fave, and super affordable!)
A gym bag is one of the most classic gift ideas for athletes, and for good reason. Every athlete needs a good bag to carry their gym essentials, and gym bags get gross over time and need to be replaced.
You don't have to spend a lot to get a great gym bag, either. This awesome bag from Baleine is very affordable and has thousands of five-star reviews, plus special compartments to keep sweaty clothes away from the rest of your stuff.
Hoka Sneakers
If your giftee is serious about running or walking, Hokas are another one of the hottest workout shoes on the market right now. Trust me: If your giftee works out, they've heard of them.
Once again, these are pricey, but for good reason. They are extremely cushiony, perfect for people who run or walk long distances on a regular basis. Get these for your cardio-loving giftee and they'll love you forever.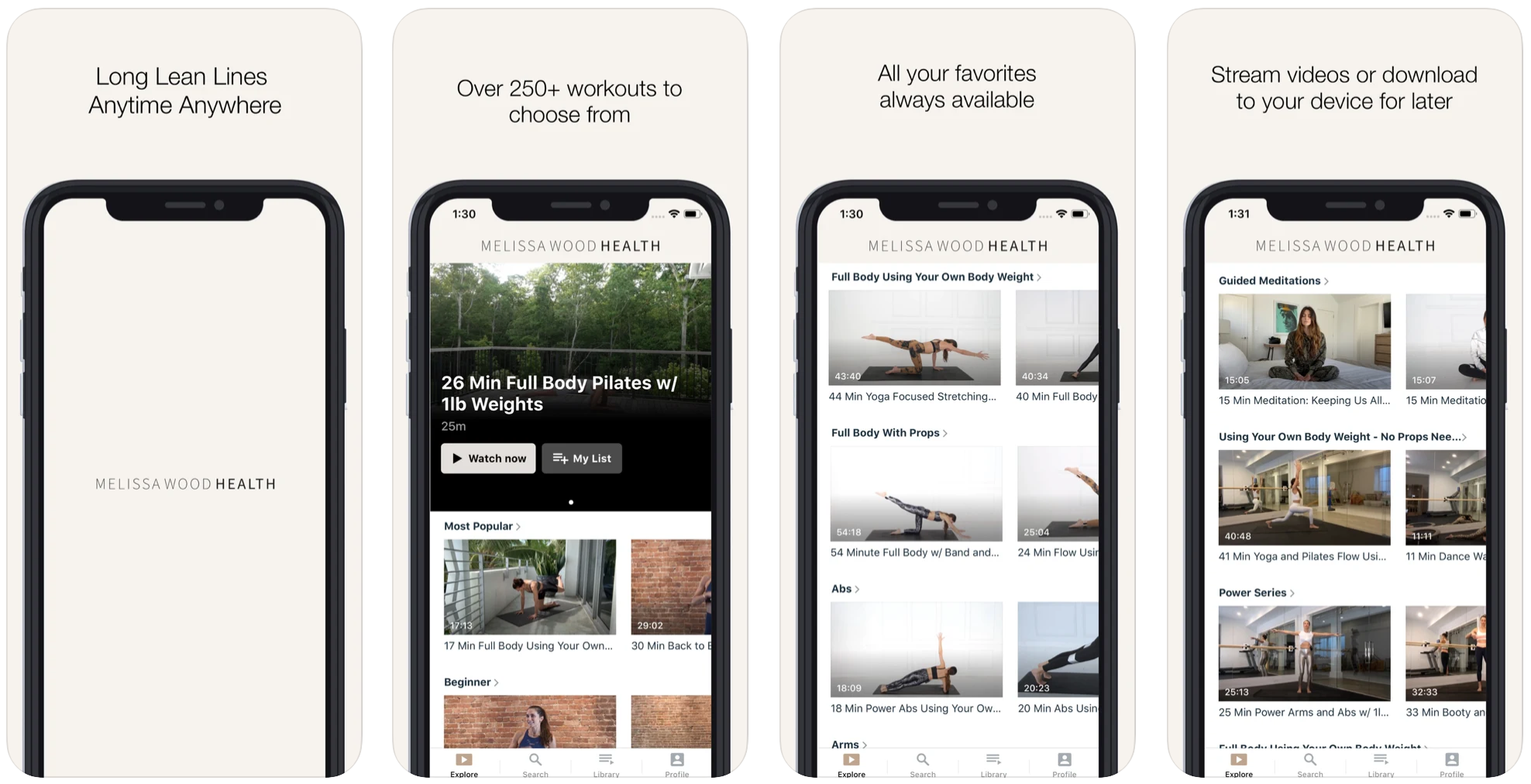 This is my personal workout of choice and a fantastic gift for women at any fitness level. I've been doing Melissa's workouts for over a year now, and I'm still not sick of them!
These yoga and pilates-focused workouts are perfect for college students since all you need for most of them is a yoga mat and a pair of ankle weights. They range in length from five minutes to over an hour, so they're easy to fit into any schedule. In addition, there isn't a lot of jumping around, so it's a great workout option for anyone with downstairs neighbors.
Subscriptions are available on Melissa's website, and you can gift them in intervals from 1 to 12 months.
This year, matching sets are definitely the biggest trend in women's gym wear. So if you know a woman who is into fitness, a matching set makes a fantastic gift idea.
This affordable top and leggings set from Amazon is highly rated for its thick, flattering, and squat-proof fabric. It also comes in 14 different colors, so you're sure to find her favorite. It looks so much more expensive than it is, and she'll wear it all the time!
"Body Love" by Kelly LeVeque
Most athletes I know love smoothies and Kelly LeVeque's Fab Four Smoothies are famous in the fitness influencer world.
Kelly's book "Body Love" shares all of her recipes for these famous energy-boosting smoothies, plus tons of other tips for healthy living. It's a fantastic resource for anyone looking to live a healthier lifestyle.
Here's another Amazon find made famous by TikTok and Instagram influencers. These crop tops with built-in padding eliminate the need for a bra and are ideal for workouts or just wearing casually.
The fabric is thick and surprisingly supportive, plus it comes in 24 different colors. And the best part is, it's under $20. 43,000+ reviewers aren't wrong — this top is a winner!
Here's a gift that will be appreciated by ANY athlete on your list, guaranteed. The Theragun is a high-tech portable massager that targets muscle aches and pains. It can aid in post-workout recovery and is amazing for anyone who suffers from tight or tense muscles.
A Theragun makes a fantastic gift as it's something most people wouldn't buy for themselves. All of their friends will be jealous of this one!
Ankle weights are a must-have for at-home workouts or just making gym workouts more challenging, and Bala Bangles are the best ankle weights on the market.
I got a pair of these last Christmas, and I use them every time I exercise! They're so easy to put on and off, and unlike other ones I've tried, these don't randomly leak sand everywhere. Plus, they are SO cute and come in a bunch of different colors.
"Seeing Serena" Book
Serena Williams is the greatest athlete of all time (fight me), so any athlete will appreciate a copy of this revealing biography.
The book takes readers behind the scenes of Serena's return to tennis after the birth of her daughter and features interviews with many heavy hitters in the sports industry. It's a fantastic, inspiring look at a true trailblazer and role model.
Exercise Dice
I had never heard of exercise dice until recently, but now I'm obsessed!
These $10 dice are perfect for anyone who likes to mix up their workouts. One die features exercises (crunches, push-ups, jumping jacks, etc.), and the other has times and reps (10 reps, 20 reps, 30 seconds, 90 seconds, etc.). You just roll the dice together and follow what they tell you to do.
This is a great way to keep your workouts fresh and exciting, and it makes a fantastic gift idea!
There are a lot of ugly yoga mats out there, so surprise your athlete with a stylish one, like this gray marble print mat.
While your giftee might already have a yoga mat, you can totally still get them a new one. Yoga mats wear out and get grimy over time, so this is very likely a gift they will use right away!
If you want to splurge on a gift they'll really love, a set of adjustable dumbbells is an insanely thoughtful — and useful gift for athletes. I would freak out if someone bought me a set of these!
This is a great gift for male or female athletes as it's completely customizable. The dumbbells adjust from 5 to 52 pounds, so your giftee can increase the weight as they get stronger, or switch the weight for different exercises. This set replaces an entire rack of dumbbells, so it's perfect for people who mostly work out at home.
A total classic gift for athletes, and something that most people wouldn't think to buy for themselves.
A foam roller is a super easy (and affordable) way to relieve sore muscles after a workout.
Foam rollers come in lots of sizes and colors, but I like this 13″ black grid one as it's smaller than most foam rollers but still just as effective (perfect for small spaces). In addition, the grid pattern helps it to better target tough-to-reach muscles.
I talked about some of my favorite Amazon finds this year, and water bottles always make the list. While I love the plastic bottle I mentioned in that post, for workouts, I prefer the Iron Flask bottle above.
This double-walled, insulated water bottle fits a whopping 32 oz inside to help you stay hydrated and drink your water throughout the day. It's also pretty much indestructible and comes with three different lids to fit your preference. (I like the straw lid for my workouts!)
Katy Hearn is a major name in the fitness world, and the energy drinks from her brand Alani Nu are 10/10 amazing. They're sugar-free and only 10 calories each, plus they have 200 mg of caffeine per can for a major pre-workout boost.
All the flavors taste incredible, but my personal favorites are Hawaiian Shaved Ice and Breezeberry. I love buying these in bulk (in fact I'm drinking one as I write this), so I would be psyched to get a bunch of these as a gift!
This thing is so cool! It's an ultra-absorbent microfiber towel that attaches to their yoga mat to soak up sweat during their workout. It has a non-slip surface and easily attaches to most mats.
The Towel comes in a bunch of different sizes and colors, too. (Though I'm obsessed with this white and gray marble print!) A total must for any yoga aficionado in your life.
Gymshark is probably the biggest gym apparel brand on the market right now. If you're shopping for an athlete, trust me, they've heard of it. I see Gymshark gear everywhere!
Gymshark makes a variety of workout clothes and accessories for men and women, so they're the perfect place to shop for every fitness fan on your list. You can't go wrong with anything from the brand, but I'm particularly loving this cute and comfy jacket for working out in the winter.
Like Gymshark, Alo Yoga is another "it" fitness fashion brand, a favorite of celebrities like Hailey Bieber and Kendall Jenner. (You've definitely seen it on your favorite influencers, too.) Their designs are super chic and fashion-forward.
If you're shopping for someone who is into fitness and fashion, you can't go wrong with anything from Alo. While the brand makes amazing matching workout sets, their foxy sherpa jacket, above, is particularly famous and coveted.
Shiatsu Back and Shoulder Massager
Ever since I saw this shoulder massager on TikTok, I've been dying to get one for myself.
Although it looks weird, this back and shoulder massager is supposed to be a game-changer for relieving tension and pain. (Seriously, look it up on social media for tons of rave reviews!) Most people wouldn't buy this for themselves, so they will definitely thank you if you gift it to them.
High Protein Fitness Snack Box
This is a great gift for any athlete who lives far away or anyone who is tough to shop for. After all, who doesn't love snacks?
This awesome high-protein snack box features 20 individually wrapped, nutritious snacks. It has everything from plant-based protein bites to energy bars and protein cookies! Any athlete would absolutely love this gift.
What do you think of our guide to gifts for athletes?
Any great gift ideas we missed? Let me know in the comments down below.
Zephyr – CF Editor

Source link