The Bachelorette
alum Becca Kufrin apparently feels her engagement to Thomas Jacobs is "right," unlike her previous broken engagements to Arie Luyendyk Jr. and Garrett Yrigoyen.
Becca and Thomas fell for each other on Bachelor in Paradise's seventh season last summer and announced their engagement in late May.
RELATED LINK: 'THE BACHELOR' FRANCHISE COUPLES NOW: WHO IS STILL TOGETHER?? (PHOTOS)
But Becca shocked the world when she was the one who proposed marriage to Thomas and not the other way around. Both Arie and Garrett had popped the question to Becca on The Bachelor's 22nd season and The Bachelorette's fourteenth season, respectively.
Becca may have gone about her third engagement differently, certainly in an untraditional manner, but she told People that it "feels right" with Thomas this time.
"It feels like we can live in it and actually celebrate it," Becca, 32, told the magazine. "Before, there was so much publicity and attention that it just felt weird. It felt off in the past."
"Whereas this one," she elaborated, "it really feels like it fits us and it's more quiet and intimate."
Becca recalled her engagement and breakup with Garrett receiving years of media attention, which was apparently very difficult on the both of them.
"I wish people would've been more respectful of my time and privacy," Becca said of enduring a public and highly-scrutinized breakup. "I wish people would have butted out a lot more."
Becca had her heart broken by Arie shortly after they filmed The Bachelor's 22nd season.
Arie unexpectedly dumped Becca and called off their engagement because he realized he was still in love with his runner-up, Lauren Burnham, who is now his wife and the mother of his three children.
Becca then selected Garrett at the end of her The Bachelorette season, but the couple called it quits in Fall 2020. Becca and Garrett split just about two years after Garrett's marriage proposal aired on the ABC reality series.
Becca and Garrett's political and social views appeared to conflict, and when they were dating, Garrett came under fire for his Instagram "likes" that were dubbed sexist, racist, homophobic, and even worse, "heartless."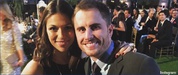 RELATED LINK: 'THE BACHELORETTE' COUPLES NOW
"Who thinks that they have to make a breakup statement that thousands or millions of people will see? That's not something I ever planned on doing in my life," Becca explained.
"But I did sign up for the TV show to put part of my life out there. I just wish that people would realize not everything is fair game for the public."
RELATED LINK: 'THE BACHELORETTE' COUPLES NOW: WHOM DID 'THE BACHELORETTE' STARS AND THEIR BACHELOR PICKS ULTIMATELY END UP WITH?! (PHOTOS) 
But Becca is looking ahead to the future and celebrating significant occasions in the meantime.
Becca just celebrated her one-year dating anniversary with Thomas last week by going to one of their favorite restaurants and then having "a little picnic on the beach" where they watched the sunset.
"There's so many exciting things happening in our life with obviously the engagement and home buying, so we're trying to keep it pretty mellow," Becca said.
And she and Thomas are brushing off the haters who have criticized Becca's decision to break away from the norm and pop the question to her man — a gesture which some trolls have deemed "desperate" of Becca.
"We've still been able to enjoy everything and roll with the punches and disregard all of the nasty comments out there," Becca told People.
Becca hopes she'll be an inspiration to women going forward and maybe even persuade The Bachelor franchise to do things in a different way.
"I hope that if any female on the show wants to propose to a man, hell yeah, go for it!" Becca said.
"I definitely want to see the option of having men's engagement rings on the show. For so long, they've brought the beautiful extravagant diamonds for the women from Neil Lane, but I hope he's making some men's rings, too."
Becca acknowledged her time during and after the franchise has been "a wild ride" as well as "crazy" to think about but she has no regrets.
"I wouldn't have changed anything because it all got me to this place and led me to my partnership with Thomas," Becca concluded.
Becca said during an early May appearance on her "Bachelor Happy Hour" podcast that, if Thomas chooses to propose marriage to her, he is "very well aware" of the fact she's already had "two very public engagements" and would like a more personal or intimate one the next time around — nothing "extravagant" and no "big scene."
Thomas — who previously noted how Becca wants an elongated cushion-cut diamond ring and he could see himself proposing by the end of 2022 — recently suggested he may have already purchased a ring for Becca.
RELATED LINK: 'THE BACHELOR' COUPLES NOW: WHO DID 'THE BACHELOR' STARS AND THEIR BACHELORETTE PICKS ACTUALLY END UP MARRYING? (PHOTOS)
Thomas teased on an April episode of the "Click Bait with Bachelor Nation" podcast, "Am I aware if I have one in a safety lockbox in my bedroom? I don't know, time will tell. We'll have to find that one out later on this year."
He also confirmed of the potential marriage proposal, "I don't have a full plan yet, but I know it's going to be small and intimate. There will be a camera. I'll have a photographer, but the last thing that I want for Becca is to have another grand spectacle."
Becca and Thomas plan to live in New York City for a few months this year and then settle down in San Diego, CA, long-term.
Thomas told Hollywood Life in November 2021 that he was pretty sold on marrying Becca because they have "the most healthy, normal relationship"
During an October episode of the "Talking It Out with Bachelor Nation" podcast, Thomas gushed of Becca, "I don't want to spend my life with anybody else… I wouldn't want to wake up next to anybody else."
On Bachelor in Paradise's seventh-season finale, Becca was shown breaking up with Thomas and crushing his heart before overnight Fantasy Suite dates because, despite having "an incredible start" to a relationship, Becca didn't want to leave The Bachelor franchise for the third time with a man unless she knew everything about him, including how he'd face adversity and real-life challenges.
However, the finale concluded with an update on Becca and Thomas' relationship, revealing how they had reunited after filming ended and were dating, "happy and in love."
RELATED LINK: '90 DAY FIANCE' COUPLES NOW: WHO IS STILL TOGETHER? WHO HAS SPLIT? WHERE ARE THEY NOW? (PHOTOS)
During Becca and Thomas' appearance on "Talking It Out" last year, Becca revealed she's the one who tracked down Thomas' phone number and initiated their reunion.
"After we ended things, I think I waited a couple days. I didn't have my phone right away and he didn't have his phone right away, so I think I gave it two days," Becca said.
Becca thought she'd be the last person Thomas wanted to hear from, but Thomas insisted she's the one person he had been waiting to hear from.
Becca said she met up with Thomas in San Diego and they picked up right where they had left off, and Thomas told Hollywood Life that he had no hesitation or reservations about giving Becca another chance.
Becca also boasted about how Thomas is different from her past relationships because he's so passionate about a life with her and was prepared to fight "tooth and nail" to save their romance.
"He is so supportive and he's just funny and quirky in the cutest ways. Everything about him, I just felt safe with, unlike anything I had in the past. I was just like, 'This guy is my guy,'" Becca gushed.
Becca even told her mother last year, not long after Paradise ended, that she wanted to marry Thomas.
Becca admitted at the time, "It's the first time I've ever actually said that out loud."
Since the pair began dating in the real world, Becca has defended Thomas and stood up for their relationship on more than one occasion considering he had been portrayed as a villain on Katie Thurston's season of The Bachelorette.
The Bachelorette's upcoming nineteenth season starring Gabby Windey and Rachel Recchia is set to premiere Monday, July 11 at 8PM ET/PT on ABC.
Bachelor in Paradise is also going to return with its eighth season, hosted by Jesse Palmer, on Tuesday, September 27 at 8PM ET/PT and air twice weekly on ABC.
RELATED LINK: 'THE BACHELOR' FRANCHISE COUPLES NOW: WHO IS STILL TOGETHER?? (PHOTOS)
Interested in more The Bachelor news? Join our The Bachelor Facebook Group!
About The Author:
Elizabeth Kwiatkowski
Elizabeth Kwiatkowski is Associate Editor of Reality TV World and has been covering the reality TV genre for more than a decade.