Paramount+ is now available on Roku streaming devices, with a whole host of films and TV series to satisfy your viewing needs. Just in time for summer, the service arrives with more than 8,000 hours of premium content, including Paramount+ originals, plus entertainment from brands including Comedy Central, MTV, Nickelodeon, and SHOWTIME. Iconic shows to stream at launch include Halo, The First Day, Super Pumped: The Battle for Uber and the Star Trek universe. We can't wait to stream Paramount+ on Roku players and Roku TV models!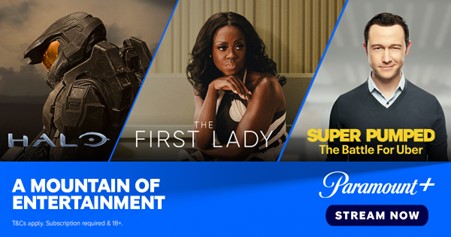 Check out the latest in the world of entertainment from @RokuUK on Twitter, Facebook and Instagram.
Happy Streaming!
All new TV-series!
Halo
The long-awaited live-action series that's based on the huge, long-running video game franchise.
The First Lady
An epic White House drama starring Gillian Anderson, Viola Davis and Michelle Pfeiffer. It portrays the life and family events of three First Ladies of the United States of America.
Super Pumped: The Battle for Uber
Based on the shocking true story, starring Joseph Gordon-Levitt, Kyle Chandler and Uma Thurman, strap in for the meteoric rise and fall of Uber founder, Travis Kalanick.
Yellowjackets
Starring Juliette Lewis, Christina Ricci and Ella Purnell, this cult series follows the story of a team of talented footballers who survive a plane crash deep in the Ontario wilderness.
Star Trek: Strange New Worlds
Set between the early seasons of Discovery and The Original Series, Anson Mount, Ethan Peck and Rebecca Romijn return to the USS Enterprise as Captain Christopher Pike, science officer Spock and first officer Una Chin-Riley ('Number One').
The Thing About Pam
Based on the real-life crimes committed by a woman named Pam Hupp. When Betsy Faria was stabbed to death in her Missouri home in 2011, her husband Russ was convicted of the crime.
Happy Streaming!
The post Paramount+ arrives on the Roku platform with a mountain of entertainment appeared first on The Official Roku Blog.