German authorities arrested six people, with one more reportedly being arrested while vacationing in Greece, following police raids against suspected drug dealers on Thursday. Police said 14 suspects are under investigation for offenses including money laundering.
In the Thursday clampdown, police secured property to the value of around €1.4 million ($1.48 million), a significant amount of cash, a small amount of drugs and steroids, and several cell phones. Officers also seized three functioning handguns alongside gas-powered and disabled weapons, in addition to various objects with Nazi symbols on them.
Some 550 officers took part in the raids, which focused predominantly on the central state of Thuringia. However, police also searched properties in Berlin and the northern state of Schleswig-Holstein. 
Neo-Nazi network monitored by Germany's internal intelligence
At least four of the suspects are believed to be members of far-right factions included in the "Brotherhood Thuringia" — a group known for wearing leather cuts similar to the ones used by biker gangs.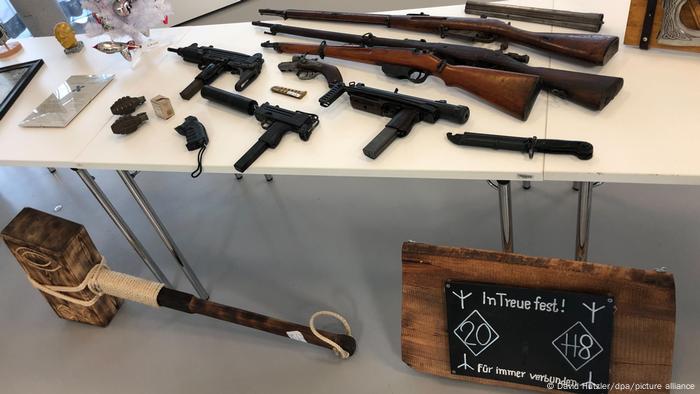 Only three weapons seized in the raids were live, according to the police
Thuringia's Interior Minister Georg Meier described the group as "very, very extreme and violent." Germany's Office for the Protection of the Constitution — its internal security agency — has been keeping tabs on the group for several years, with authorities estimating that the extremists had maintained contacts outside Germany.
Meier also said it was important to keep track of sources of funding for extremist groups.
State police first received indications of ties between far-right extremists and carrier criminals in 2020 and have organized a series of raids, arrests and seizures over the issue. While it was possible that a significant amount of funds obtained by the extremists came from the criminal milieu, authorities said further investigation was needed to pin down possible money flows.
dj/jsi (dpa, EPD)